Miss Lou's birthday celebrated with online party, concert
Miss Lou's birthday celebrated with online party, concert
The Jamaica Cultural Development Commission (JCDC) will be making a two-pronged effort, inviting the public to partake in celebrating the 97th birthday of one of Jamaica's most revered, the late Hon Louise Bennett-Coverley, OM, OJ, MBE.
More affectionately known as Miss Lou, the cultural icon has rooted herself beyond the shores of her homeland. For the last four years, in February, at the beginning of Black History Month, there has been a reading festival in Bennett's name, held at the South Regional Broward College Library in Pembroke Pines, Florida, and at Toronto's Harbourfront Centre, Miss Lou's Room (a reading and activity space for children) was opened to the public in July 2007 on the first anniversary of her death.
In honour of the late Hon. Louise Bennett-Coverley, OM, OJ, MBE, the Kingston and St Andrew Parish Office of the JCDC will partner with Airports Authority of Jamaica to host a lunch-hour concert at the Norman Manley International Airport today, starting at 1 p.m.
"We have partnered with some of Jamaica's most prominent personalities to bring these poems to life in their own special way," said Stephen Davidson, director of marketing and public relations, JCDC.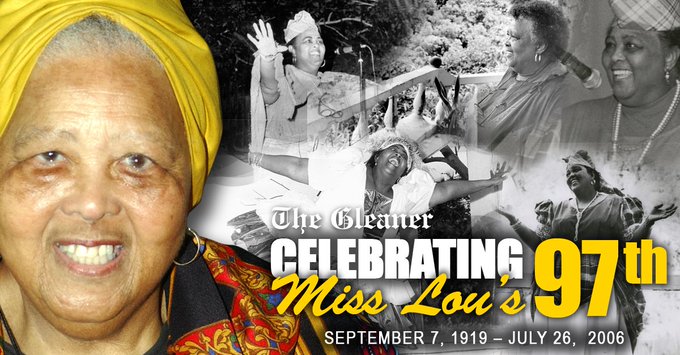 SEE: Celebrating Miss Lou's 97th birthday
According to Paulette Sutherland, JCDC parish manager for Kingston and St Andrew, "Miss Lou played an instrumental role in the acceptance and appreciation of the dialect, which she proudly demonstrated through her writing and performances locally and internationally. To keep that global appeal, we are pleased to partner with the Airports Authority of Jamaica to host this concert. The concert is free and open to the public and promises to be a memorable experience for the entire family."
According to Davidson, "We have received 10 submissions," which come in video form, to be displayed as part of the presentation during the concert. The videos will also be promoted during an online party, dubbed 'Saluting Miss Lou: Aunty Roachy Online Party', which will be taking place throughout the day. The JCDC invited members of the public to post their own tribute videos online, and tune in to the live streaming of a tribute concert, which will allow persons from across the globe to join in the celebrations.
In keeping with her global icon status, Davidson encourages the public to share their videos on their own social media pages using the hashtags #misslou2016 and #auntyroachyparty and tag the JCDC on Twitter and Instagram using the handle, @jcdcjamaica.
This celebration will reflect on the life and contributions of this pioneer on the 97th anniversary of her birth and the 10th anniversary of her passing.